Will you be our 2021/22 intern?
Roughly a 2 minute read by Alex
If you're passionate about building a career in digital and are willing to commit at least 7 months to a full time placement here in Leeds, then our paid internship programme could be your perfect foot in the door.
We're looking for self motivated applicants with the drive, passion and talent to get the most out of this unique opportunity.
It doesn't matter if you're currently at University and looking for the perfect placement, or no longer in education and ready to cut your teeth in your first paid role.
On top of honing your craft in your preferred discipline, you'll also be given insight into the business side of how things are run, from learning how to accurately quote and track project efficiencies through to preparing for pitches and winning work.

The deal
A minimum 7 month digital internship with the option to extend up to 12
£15k salary, pro rata
Exposure to all areas of the business
Mentoring and coaching to increase your knowledge and skills
The chance to work on real client briefs
Inclusion on all our our socials and events
Sound interesting? Head over to our internship page for more information.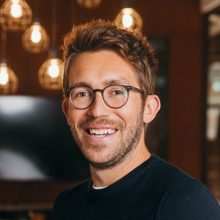 Alex concentrates his time moulding the future picture of the company's development, paying particular attention to the intricate balance of growth, culture and doughnut consumption.