5 off-the-rails social fails
Roughly a 3 minute read by Hayley Brent
Working in digital, we're always striving to create the type of content fans want to share. Sharing triggers can be anything from being hilariously funny to telling an emotional story, and they all lead us marketeers down the road to success. Or do they?

We never really can guarantee how folks out there will react to content, or what they'll do next with it. Sometimes it all goes to plan... fan sees content, loves it and shares with their family and friends. Great news for everyone involved.
But what happens when brands get it wrong? Let's look at some of those moments brands willed the world to quickly swallow them up.


#MyNYPD - New York Police Department
Reaching out to the community was the priority. But even with the best intentions to shine a positive beam of light on the New York Police Department, the #myNYPD campaign failed miserably from day 1… and continued to die a horrible and embarrassing death for all to see.
The damage? We're talking hundreds of cringe-worthy tweets revealing images of Police brutality straight from the streets of New York. Talk about digging yourself a hole…


#WhyIStayed - DiGiorno
Making light of domestic violence is never a smart move. Especially when you're a pizza brand with thousands of social followers.
The #WhyIStayed hashtag courageously challenged victim-blaming attitudes with many sharing their own brave and heart-felt stories. With that in mind, there really is no defending them on this one.
Despite following up the blunder with an apology (and a poor excuse), we can't help but wonder why they didn't check the context behind it all. Bad move, DiGiorno… bad move.


Pancakes - IHOP
We can see how it happened. The office kidder at IHOP makes a controversial but seemingly crowd-pleasing Friday joke relating to flat pancakes and boobs, then (unbeknowing to the backlash they're about to cause) posts it on Twitter believing it's their best piece of social content to date. Wrong.
The moral of this story. Never make a joke about women's breasts. Ever.


#GifTheFeeling - Coca Cola
Coca-Cola get so many things right when it comes to marketing, so I feel saddened to name and shame this campaign.
The love of GIFs has soared across the internet recently, so it was only a matter of time before the fizzy drinks giant seized the opportunity to leverage content out of it. Their Make Your Own Gif tool was a seemingly genius idea. Sadly, the digital sphere found away to chew it up and spit it back out.
We're not laughing at you Coca-Cola, honestly.


#Emojinal - House of Fraser
We prayed it was hackers. We hoped it was a joke. But nope. House of Fraser did indeed lose their marbles this Valentine's with the #Emojinal campaign.
Abandoning their long-standing play it safe tone of voice, the brand took to the internet plastering too many emojis and hijacking hashtags left, right and centre. The result was a barrage of confused fans and blatant ridicule from the social community. PR genius or a social nightmare? I'll let you decide.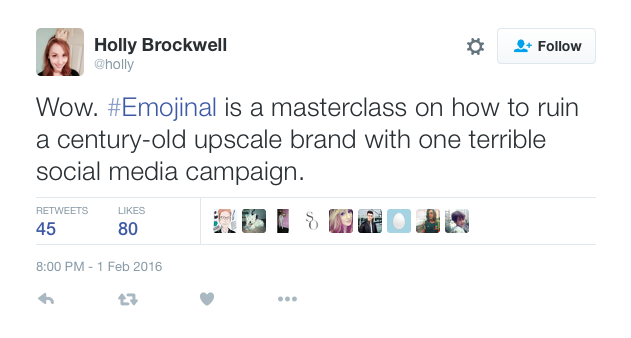 Have you seen any social media campaigns that have made you cringe with delight? Let us know below!