Snapchat update: Video calling, the sand timer and everything else you need to know!
Roughly a 5 minute read by Georgia Davies
You may (or may not) be aware of Snapchat's newest update, but it's certainly a clear indicator that they are definitely on their A game right now.
The competition between social platforms recently intensified with the news that Facebook bought Masquerade, the face-swapping app with similar technology to the Geo Lenses found in Snapchat - just proving that they're feeling a bit threatened by Snapchat. Plenty of brands have already been quick to spot Snapchat's upcoming success, with big players such as Pandora, Hollister and McDonald's all creating sponsored lenses for Snapchatters to use. For Super Bowl Sunday in the US, Gatorade's sponsored lense reportedly cost $750,000 and received over 100 million views over the course of 24 hours. This raises the question, how can businesses start to utilise Snapchat as a main social media channel?
The Update

First, let's talk about their most recent update, Chat 2.0. Released on the 29th March 2016, it's been a key topic of conversation on social media ever since. So, what's changed?
One major update is video calling - step aside, FaceTime! Snapchatters now have the option to chat via video, as well as taking and sending images at the same time too. You'll also be able to switch smoothly between communication methods on the app, setting it even further apart from its messaging service competitors. Another notable addition is the sticker feature, allowing users to choose from 200 different stickers to send to their friends on private chat. Suddenly, Snapchat's decision to buy out Bitstrips for $100M just last week makes A LOT of sense!
Hold up… there's more. Auto-advance stories are also fresh on the scene, as well as the option to send short looping video clips and audio notes.
Don't fear, we still hear you asking "but what is the sandtimer on Snapchat?" The newbie emoji caused mass distress when it appeared with the latest update, but it's meaning is now known; it's here to warn you when your streak with your best bud will end.
Phew, we can finally relax.
Snapchat takes pride in how this update means 'you can transition between all these ways of communicating — just like you do in person'. The ability to easily interchange between mediums - video, voice, chat - may seem to overcomplicate things at first, but it firmly positions Snapchat as the ultimate app used for any (and all) types of digital communication. In an incredibly fierce field, Snapchat is pulling out all the stops to ensure it's ahead of its competitors.
How Brands Can Use Snapchat

Now you're all caught up on the update, let's get down to business - how can brands (without Gatorade's $750,000+ budget) use Snapchat?
They do have a 'Discover' area where you can view snapchats by brands, which reportedly receives video views that rival Facebook. Their social media partners range from National Geographic, to Mashable to The Wall Street Journal. The CEO of BuzzFeed, Jonah Peretti, has accredited 21% of the company's total traffic to Snapchat, showing that it certainly is a force to be reckoned with! However, with only 15 channels being part of the Discovery section, it's highly unlikely for up-and-coming brands to win a seat with the cool kids.
Using the Experts

A more viable option, and one that many brands have opted for, is working with influencers in 'Snapchat Takeovers'. Social media star Logan Paul took over Sour Patch Kids Snapchat account in July 2014, bringing all of his fans with him.

The result was more followers for the brand as Logan's fanbase leapt at the chance to find out what he was up to. The key to the influencer tactic is finding someone who shares a mutual target audience and ensuring that the content is relevant and of interest to fans. Once you've got them there, you want them to stick around once your Internet celeb has left the scene!

Behind the Scenes

Snapchat has also proved to be great for promoting events too. Fans can easily get a behind-the-scenes sneak peek and 'access all areas' look at high profile events such as New York Fashion Week. No paid advertisement via Snapchat is needed as businesses can reach fans directly with stories from their own accounts. For brands with a higher budget, sponsored geo lenses can be purchased for anyone at the event to use. The team behind the Pitch Perfect premiere seized the opportunity to do just that!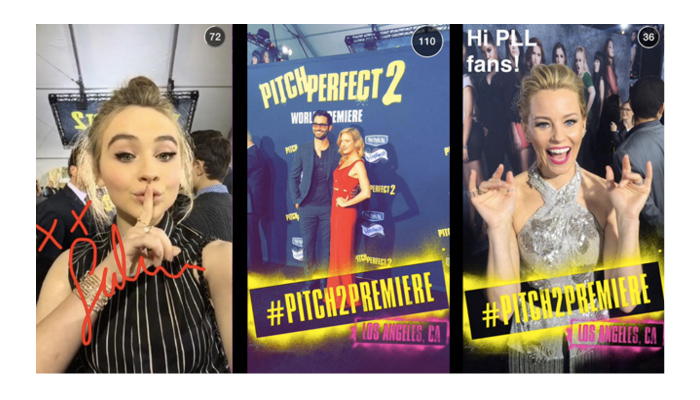 Location based filters for events don't have to break the bank though - Snapchat have recently announced that you can personalise your own geofilters, then select a location on the map where anyone in that area can use this filter. Prices start from just $5, dependant on location, time and duration. The perfect way to promote your event at a fraction of the cost of sponsored lenses!

Sneak Peeks

Another way of generating conversation about your business through Snapchat is to release teasers of upcoming releases, whether it be products or services. Giving away promotional codes or informing fans of sales are also great ways to increase views. This tactic is often used by Victoria's Secret, who recognise that the speed of delivery and fast-paced nature of Snapchat makes it one of the best social channels to post on.
Thinking Ahead
Although Chat 2.0 is more about usability and tech improvements, Snapchat is clearly setting the foundation for potential monetisation further down the line. With their core audience currently being young teens, Snapchat's technical advances allude to a potential shift in their target audience, as it seems they're trying to expand their reach to adults too. We're excited to see what the future holds for Snapchat and how brands will continue to find innovative ways to use it!
What do you think of the update? Do you think it could have a direct impact on the way brands are able to use Snapchat?